As your reliable partner for advanced blade services, our expert service team is never far away. 
Wind turbine blades are designed to operate for more than 25 years, withstanding all types of weather. Regular inspections and maintenance are crucial to securing this long term investment.
With more than 35 years of experience, we have one of the world's largest blade service teams and offer detailed knowledge of all aspects of your blades. Approximately one in five blades worldwide were designed and manufactured by LM Wind Power - more than 228,000 blades produced since 1978! This inside knowledge enables us to expertly service our own blades and those of any wind turbine manufacturer worldwide.
We know blades. And, we know what it takes to keep them turning.
Read to find out how our global blade service team can meet your needs, and contact us today to learn more!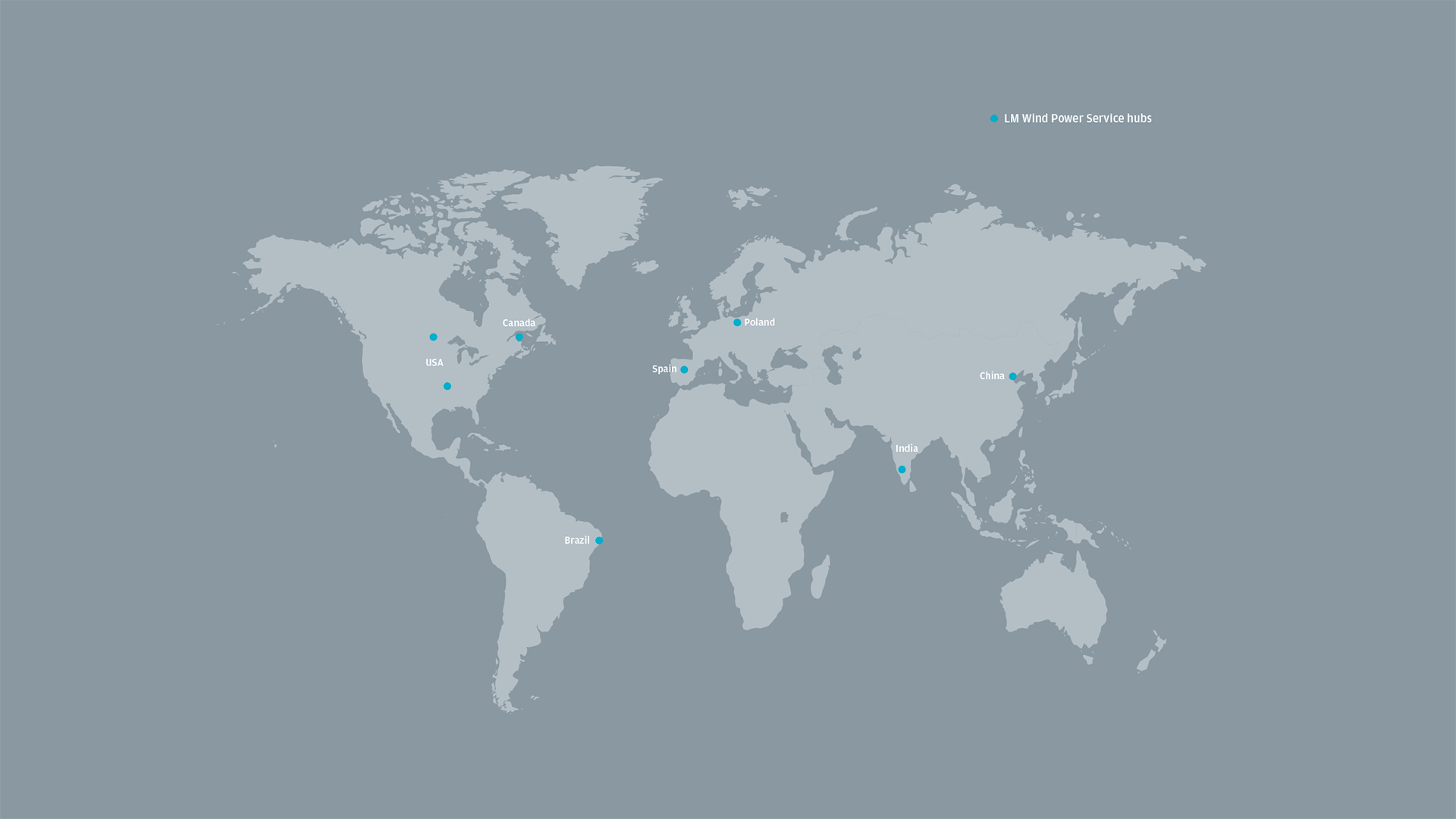 YOU NEED:
Global reach
With a global network of nine operations and maintenance support facilities, combined with efficient onsite repair solutions, we deliver high-quality solutions to wind farm owners across the world. We are also prepared to handle difficult and complex repairs, in a number of regional workshops.
Trained to protect your blades
Innovation is our toolkit. Our people come with the expertise to operate special tools and equipment,  minimizing your turbine's downtime.
Working several meters above the ground to service and repair blades requires a trained crew. Our highly-skilled and capable technicians are able to carry out the most intricate procedures expertly and safely. 
All LM Wind Power service technicians receive extensive, customized training and courses to continuously refresh their knowledge and further improve their skills. In addition to training in new products and repair methods, our customized training programs include safe pass training, working at heights and rescuing, a first aid and medical test, working in confined spaces and fire extinguishing. The globally-coordinated training ensures our service technicians receive the same high level of skills no matter where in the world they are trained and stationed.
WE KNOW:
Safety
All activities in LM Wind Power are carried out in accordance with our Global Environment, Health and Safety  (EHS) policy, and our service organization is no exception. Our philosophy: Think, act, keep safe and arrive home safely. 
WE KNOW:
Innovation
Efficient and convenient.
Our platforms are suspended on the turbine tower and 'crawl' up the blades on wires. This tool is a vital cog in our maintenance procedures, which we customized to our needs and tasks.  Working from platforms is a flexible, versatile and efficient alternative for solving tasks that would otherwise require an expensive lift crane in remote areas.
WE KNOW:
Quality
"I climb on turbines practically every day. It is very demanding but also fun! Thorough preparation and daily training are crucial when you need to perform quality work while hanging from a rope." - Celso Perez Gomez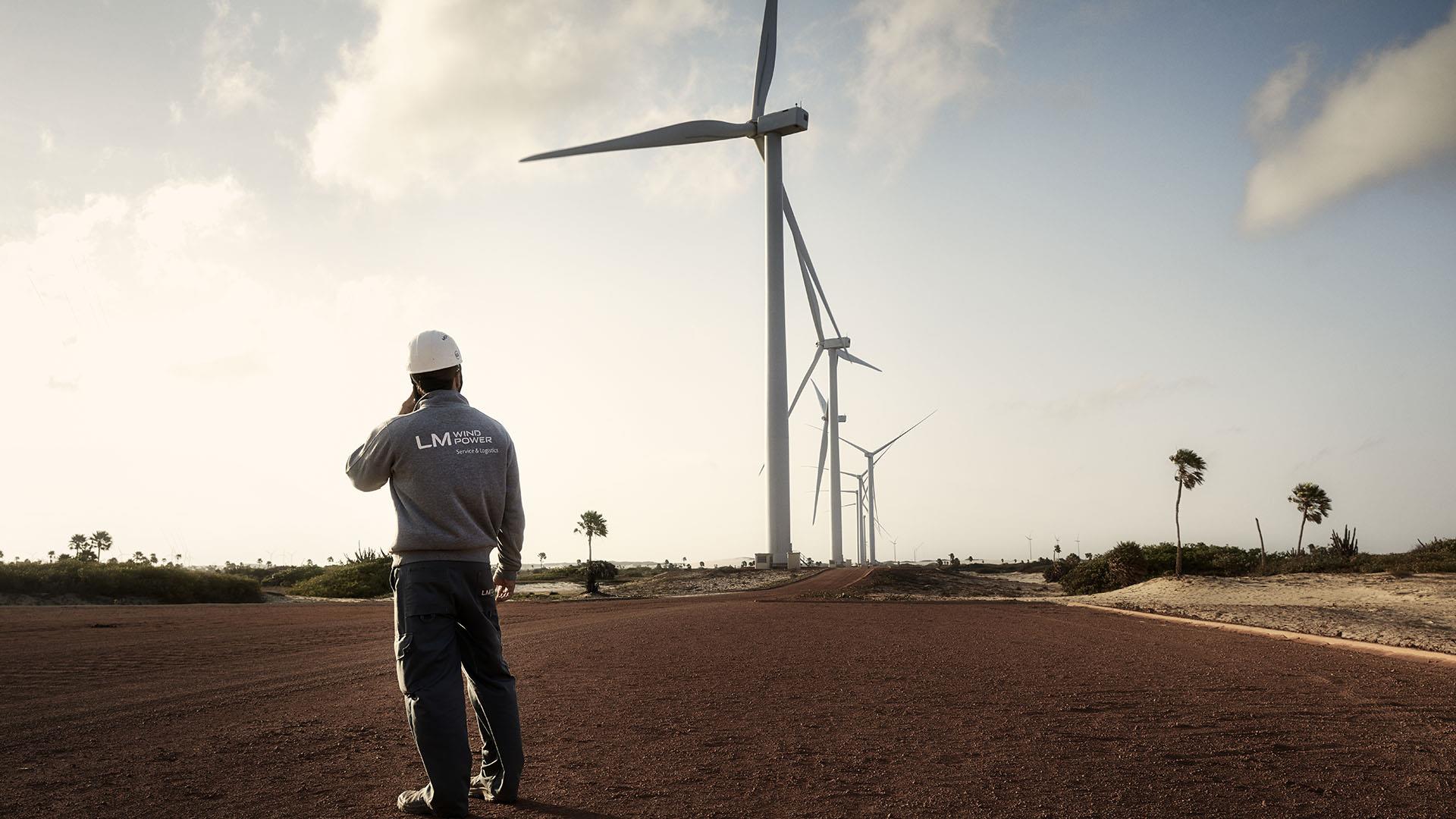 SERVICES
Flexible and cost-effective
Each rope team consists of three specially trained service technicians, who can be deployed on all turbine tower types. The rope teams primarily handle surface inspections and smaller repair tasks, such as those involving vortex generators, lightning receptors, minor holes and imperfections.