We know our blades endure the test of time
With a wide range of global offshore wind farms since 1991, we know reliability comes from experience.
As blade specialists, we know what it takes to:
Ensure reliability: Our rigorous, consistent and global quality procedures and full-scale testing exceed certification requirements
 
Protect blades from the harsh offshore environment: Proven leading edge and lightning protection ensure our blades run smoothly in extreme weather
 
Push boundaries: Using hybrid carbon technology, the LM 107 stretches the blade length/weight ratio, and our innovative engineers continue to develop next-generation blades beyond 100 meters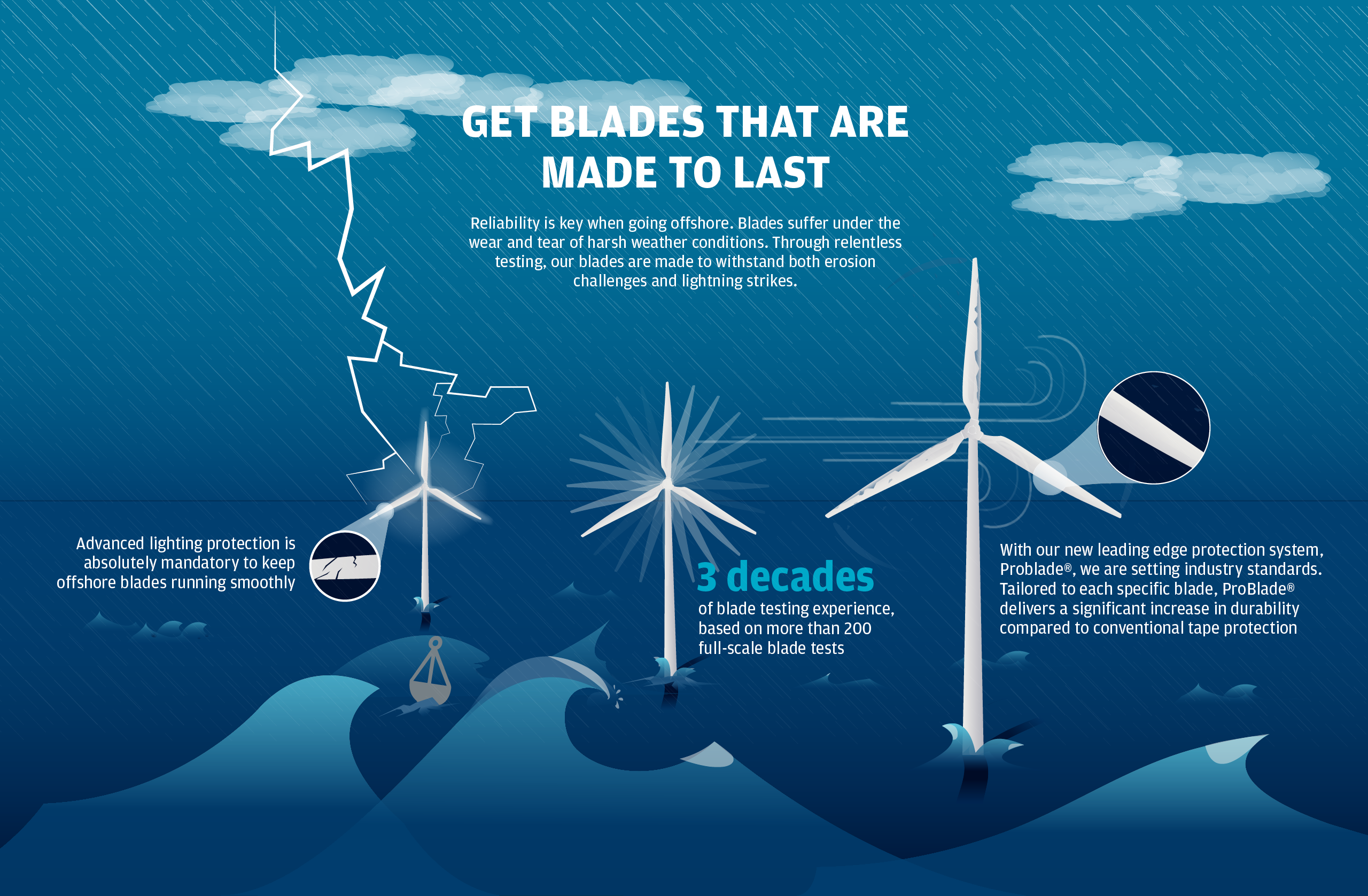 GO OFFSHORE
6 Reasons to go offshore
Proven reliability is just one of the many reasons to go offshore with LM Wind Power.
Here's why you should go offshore with LM Wind Power
With decades of experience offshore, we know what it takes to build blades that will last for more than 20 years in stormy seas.
It's never been a better time to go offshore – with bigger blades to produce more energy, advanced technology to combat rain erosion and rapidly declining costs. But the harsh offshore environment comes with additional challenges and the investment requires careful consideration.

Here are six reasons why we believe you should go offshore with us!  


1. Utilize the space the stronger winds at sea
Our vast oceans offer plenty of space for clean energy production. Offshore winds blow stronger and more consistently than on land, providing a unique opportunity to harvest more energy, and in turn, power many more homes.

2. Invest in an energy source with rapidly declining costs
The offshore industry is already realizing big reductions in cost. And there are more to come. Experts project that the cost of offshore energy production with drop significantly over the coming years.

3. Team up with an experienced partner
Continually reducing the cost of energy starts with proven technologies and a long track record. LM Wind Power has been a pioneer in the offshore industry for decades.

4. Produce more energy with advanced designs and technology
Innovation is in our DNA. Our advances in technology pave the way for longer, more powerful blades – producing more energy than ever before.

5. Get blades that are made to last
Reliability is key when going offshore. Blades suffer under the wear and tear of harsh weather conditions. Through relentless testing, our blade are made to withstand both erosion challenges and lightning strikes.

6. Throw an effective punch at climate change
The COP21 nations have agreed on the need for a global transition to renewable energy in order to limit global temperature rise to 2 degrees Celsius, and strive for 1.5 degrees, to combat climate change. Producing huge amounts of clean energy, offshore wind power is a key element in achieving this goal. 
THE WORLD'S LONGEST BLADE
Size matters
Meet the LM 107 - meter blade, the world's first offshore wind turbine blade beyond 100 meters in length.
As the offshore industry expands, continue to look to our breakthrough technology to pave the way for longer, more powerful offshore blades - producing more energy than ever before!"
PRODUCTS
We know blades
Here's what it takes to build the most advanced, reliable and high-quality wind turbine blades in the industry.