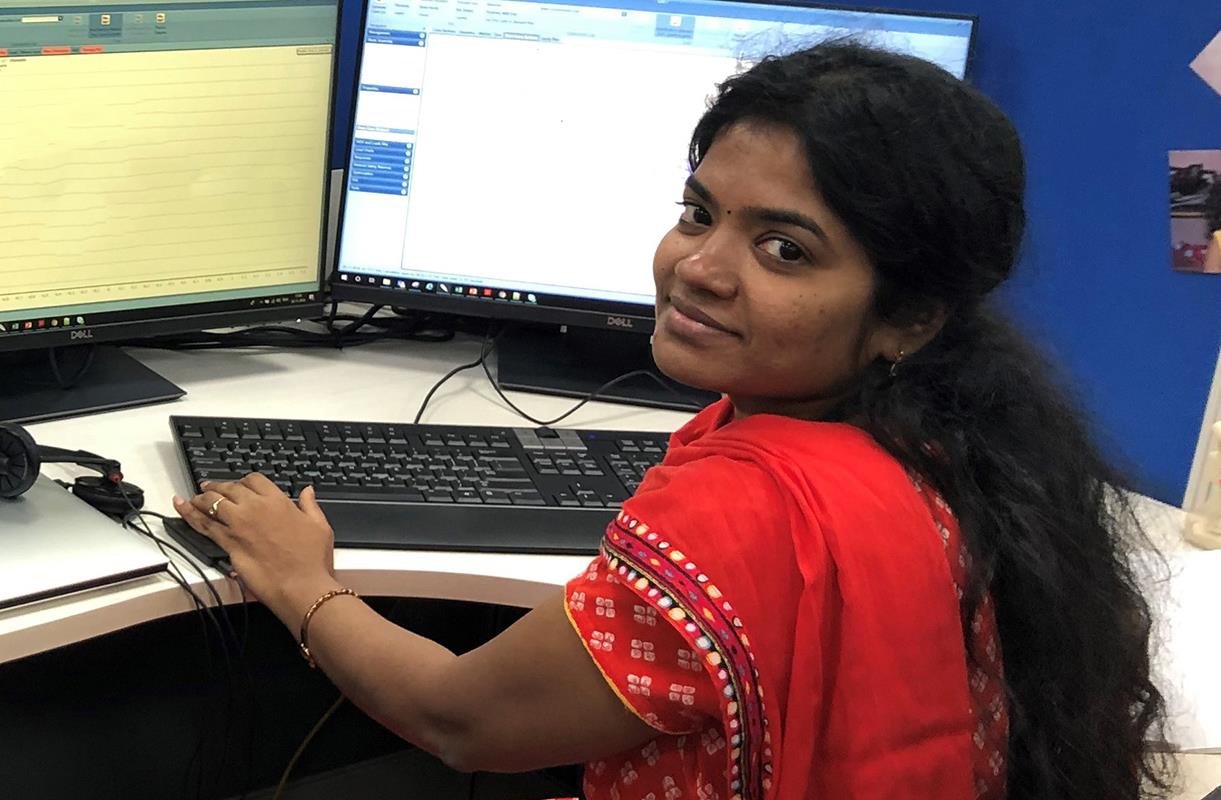 Turning dreams into reality: How a passionate blade designer is helping shape up the future of sustainable energy
Born in a small town near Madurai in southern India, Revathy M. grew up with a fascination for engineering and designing. She strongly believed engineers are the only ones who could find solutions to any challenge and aspired to build her own house someday - a dream that led her to pursue Civil Engineering for higher studies. Today, she is passionately involved in designing wind turbine blades and is among those very engineers who are helping shape the future of sustainable energy.
For Revathy, the favorite part of her work is the challenge that it brings. No two days are the same and there are always new learnings. "Execution of the complete product development from design to production, especially the new technology blades, is quite exciting and nerve racking. The greatest reward at the end of the day is that you can say you were a part of it, and that's a great feeling", explains Revathy, who is currently a Senior Engineer with the Product Structure & Analysis team at LM Wind Power.
With nearly 10 years of technical experience on blade design and four patents on wind turbine blade technology, Revathy is also the recipient of the prestigious 2021 Edison Award for Women in Technology . The award recognizes female employees who use their breadth and depth of technical excellence to creatively tackle current problems with innovative solutions. Her contribution in establishing the structure design function in a new team at LM Wind Power India, coupled with the technical prowess on composite blade design has earned her this accolade, which is a "dream-come-true moment" for her.
"It is certainly, the proudest moment in my professional career. The fact that I was nominated for this award in an organization like LM Wind Power and GE, among so many competent women colleagues itself makes me feel honored. It feels great to be valued at work and I feel inspired," Revathy says.
She adds: "The work culture at LM Wind Power is great with lots of focus towards diversity and inclusion, which empowers people to work at their best. Everyone has equal growth opportunities & challenges. At the end of the day, we own our growth. We believe in teamwork and the diversified team with a varied mix of skill set, experience levels & expertise, helps finding innovative solutions for most challenging problems."
Shaping up the future of sustainable energy:
The pace of technology innovation is accelerating swiftly, and the trend is shifting towards digital transformation and automation. Every industry is looking forward to embrace technology to create more value and bring down product cost.
"At LM Wind Power, we are committed to shape up the future of energy with breakthrough technologies, ambitious vision, and desire to serve our customers better," shares Revathy, who is also involved in various design strategies and initiatives.
An inspiring colleague and mentor:
Committing ourselves to continuous professional development and focusing on the details are the key to growth, believes Revathy. Venturing outside of comfort zone, and the ability to take up challenges improves visibility in the organization. We should aim to establish ourselves as an expert and go to person on at least one specific domain or a key skill, says Revathy.
"Don't hesitate to take up training opportunities and questions from peers. It helps in sharpening your communication, adaptability, and organizational skills, and understanding the bigger picture, sometimes looking at a problem in a different angle," she insists. "And lastly, be a good team player!"
Revathy and numerous other inspiring women engineers are behind the scenes of the wind power industry, building the next generation of wind turbine blades. Their work directly contributes to strengthen our vision: together, we capture the wind to power a cleaner world. They are undoubtedly our #LMGameChangers, working on some of most intricate technologies that are crucial for our customers, enabling them to achieve their clean energy targets and accelerating the energy transition to save our planet for the next generations.
Together we create a desirable place to work with equal opportunity for all.
Revathy previously shared a look at a typical day in her life as an engineer based out of our Technology Center India. Read more here