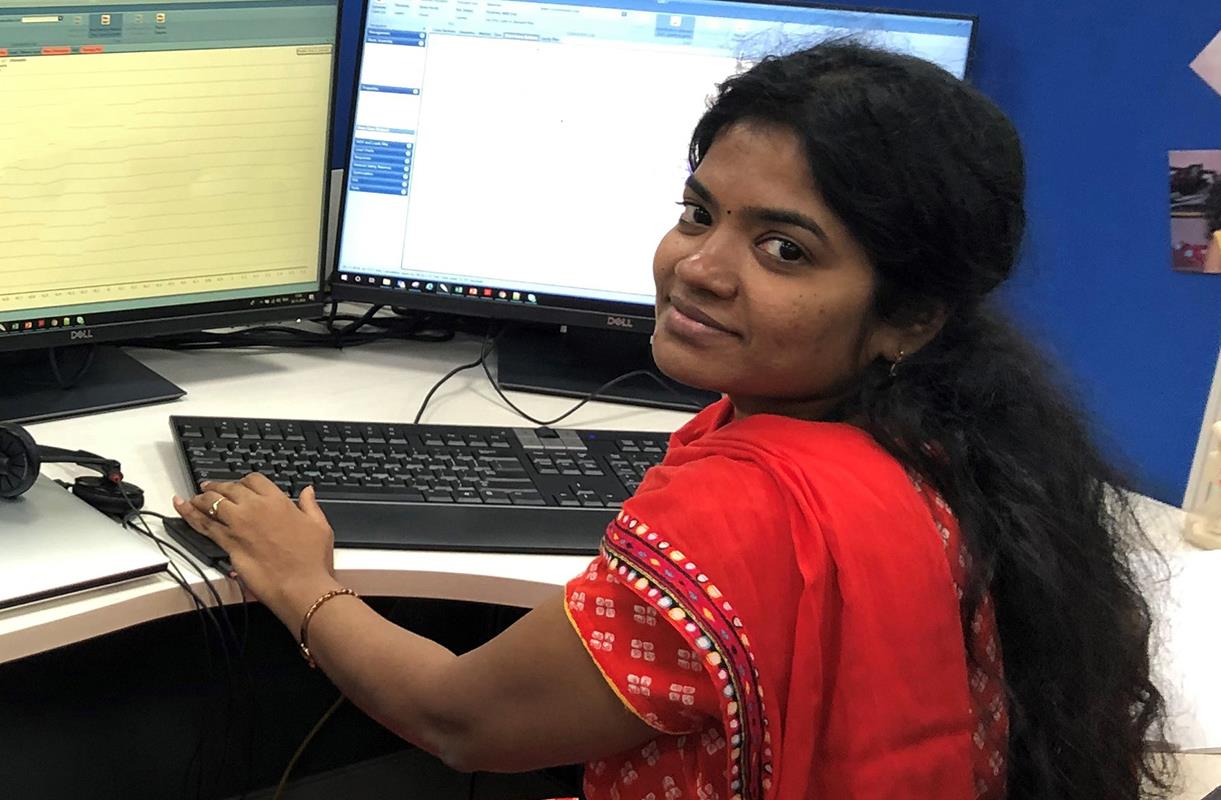 We Know Blades: Revathy, LM Wind Power Technical Team Leader
Behind the scenes of the wind power industry, engineers work every day to design and produce the next generation of wind turbine blades. Their work directly contributes to our vision: together, we capture the wind to power a cleaner world.
To celebrate Engineering Week 2020, we spoke to one inspiring engineer at our Technology Center India, in Bangalore. Read on to meet Revathy M, Technical Team Leader in Product Design & Engineering in LM Wind Power.

Tell us a little about yourself
I was born in a small town near Madurai, in southern India. And received my education in Coimbatore, Tamil Nadu. Engineering was my passion from childhood, and I always thought that engineers are the only ones who can find solutions to any challenges. Growing up, I had a dream of constructing my own house which made me pursue Civil Engineering. I never could have imagined that I would one day be designing wind turbine blades!

My mom is my backbone, and her support and sacrifices are the sole reason for where I am today. I am married to Bubala, who is a software engineer with IBM. And we are blessed with one son – Avaneesh, who is seven years old. He is my stress buster, sometimes stress inducer and the only person, after my mom, who thinks that I can do anything!

Briefly describe your typical day
Usually my day starts at 5.30 a.m. I help my mom in the kitchen, get my son ready for school and head to the office in LM Wind Power's Technology Center India. I prefer to walk to the office, which is my only workout routine.The journey takes me 30 minutes, which I utilize to visualize my day ahead and plan my work activities. I keep working until I accomplish all the activities planned for the day, which helps me work more efficiently. At least 40 percent of my work time is spent on mentoring others and on my learnings as well.

I'm a neat freak and generally spend my after-work hours cleaning my home and helping my mom if needed. I also help my son with his homework and assignments.

What is your favorite part of your job?
My favorite part of my job is executing the complete product development – right from design to production, especially when I see the first blade which I designed being produced. Also, I like to work with the production team to resolve any production issues, help with cycle time improvement and implement the learnings in the next product

How do you think engineering will change in the future?
The pace of technology innovation is accelerating swiftly, and the trend is shifting towards digital transformation and automation. Every industry is looking forward to embrace technology to create more value and bring down product cost. At LM Wind Power, we are also at the forefront of some big technology shifts like the ones that enable our jointed Cypress blade and the record-breaking 107-meter blade for the Haliade-X.

What do you like to do in your spare time?
I love to decorate my home in my spare time. Most of my shopping time is spent on home decor ideas. My relatives and neighbors often seek my tips for a clutter-free, smart and sleek home, which suggests I'm good at my hobby! Apart from that, I love to read novels, especially thrillers. And sometimes, I just love to do nothing and enjoy a long sleep!