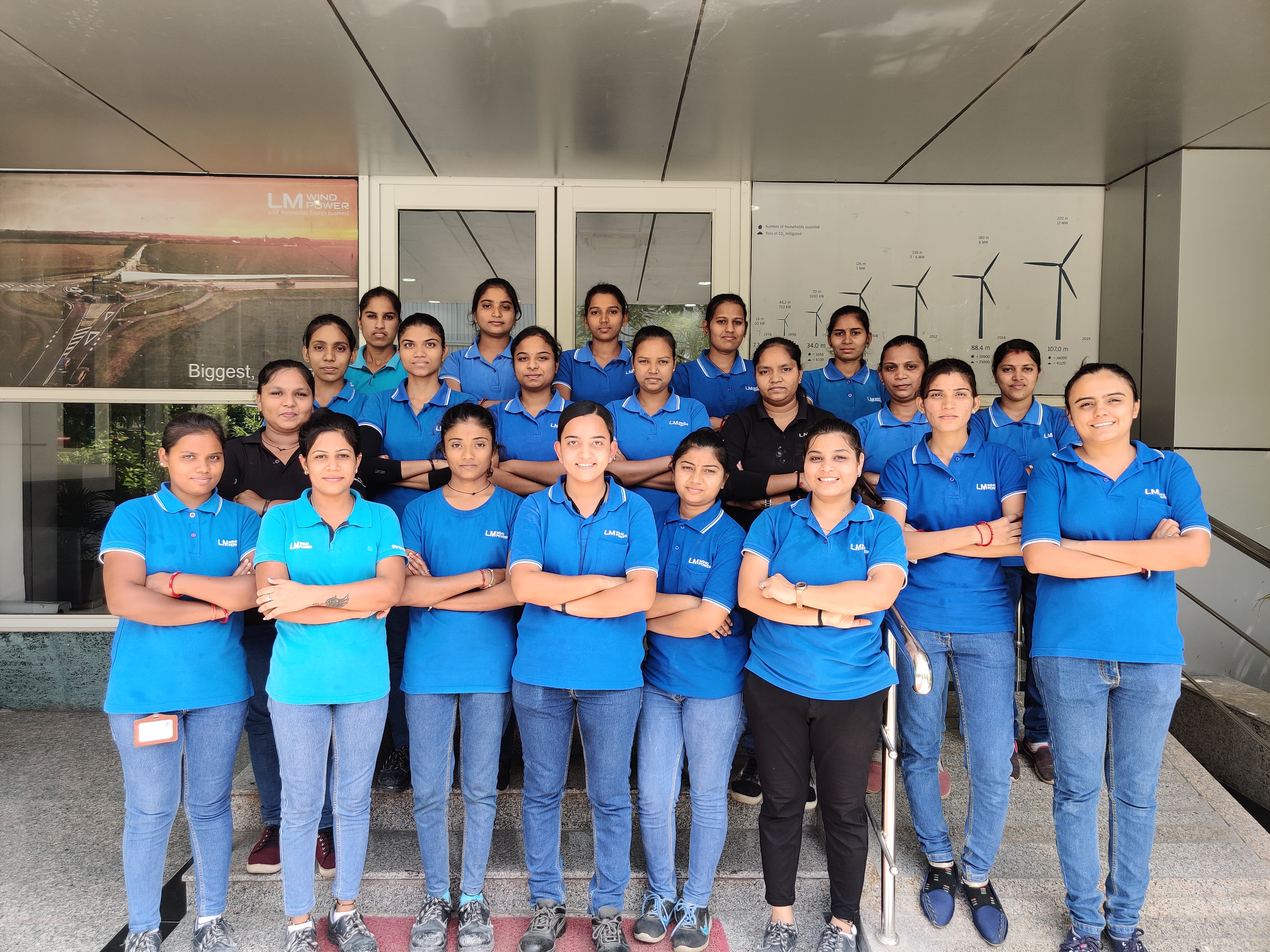 Seven Stars shine bright: Vadodara shop floor women breaking through bias!
Ankita Chauhan hails from a small town in rural Gujarat and works at the blade manufacturing plant in Vadodara. She is a member of the team that builds carbon pultrusions- a technology that helps making the blades stronger and operates the Carbon Pultrusion Equipment (CPE) machine according to the set parameters for the process.
Her colleague Rameshvari R Kharva from the spar cap production team is engaged in preparing ready-made kitting independently. It involves cutting and re-sizing a variety of materials that are combined into a sturdy unit that increases the durability and performance of blades, while keeping them lightweight. Kitting can be readied for any section of the blade (glass fibers/ core) and considerably reduces waste as well as blade production time.
Ankita and Rameshvari belong to one of the seven specially trained inclusive teams at Vadodara where women on the shop floor have started leading end-to-end production processes.
Under the Seven Stars project, launched in 2020 and spearheaded by Plant Director Pankaj Upadhyay, these teams and their leaders are focusing on training women employees in critical processes related to blade making with a lean approach, aiming to shape the next crop of female leaders who can carry out all major operations at the manufacturing unit.
"Our work is both fulfilling and rewarding! Most of us come from a non-technical field but we are eager to learn, and the environment at LM Wind Power gives us numerous opportunities to do so. We are being trained to work with some of the most recent technologies in the industry, to build blades that will help clean energy generation," says Ankita, who is passionate about her role as an operator.
Vikram Prajapati, Advanced Engineer – Production, who is currently training the team shared: "I have always believed in empowering my team, and gender is not a barrier at all. Our target is to make the women in operations team '7-stars professionals', who can make blades end-to-end, be it operating glass wagon, gel coat operation, bush winding operation, TRF mold operation, web mold operation and kitting. We have plans to explore numerous improvements in the current processes and hope to work together and offer them in the coming months."
These women are standing shoulder to shoulder with their male colleagues and are directly engaged with manufacturing activities in the shopfloor - true examples of how determination and perseverance can break any glass ceiling and fuel an inspiring zeal to grow. They are adept at balancing work and family life, with some being the sole earning member of their family.
Bhumika Sheth from the post- molding team, who is also the group's mentor says: "For women on the shop floor, a strong support system at home and in the plant, boosts overall morale, productivity, and cooperation. Some of us are the sole breadwinners and after completing our 8-hour shift, we head home to take care of our family's day to day needs. At the plant, our team leaders, shift in charge colleagues value our inputs and ensure all concerns are addressed so that the team can put in their best efforts. We value our dreams and ambitions, and we are deeply motivated to work together to address the global issue of climate change."
Spotlight on the stars:
Traditionally, most of the shop floor roles were male bastions, assigned to men at the unit, who worked on multiple shifts. But focused projects like the Seven Stars are building a strong foundation and momentum for upskilling women at the plant and making sure there is equal representation in all areas and all processes.
Not only has the project boosted their morale and made these women pursue their training with full determination, but it has also helped the team overcome obstacles and improve some of the processes themselves!
For example, one of the teams came up with the idea of developing "pre-kitting", which basically means preparing the kitting prior to the process so that it will help in optimizing the time taken to make a blade and material waste. This eventually led to reducing the cycle time by 5 hours- a perfect example of time saving and cost optimization. Previously, the kitting material was prepared by an external supplier outside the plant, but now these are made in-house and that adds to cost savings as well.
"Programs like the Seven Stars highlights active and conscious efforts undertaken to accelerate our aim of building a diverse and inclusive workplace," explained Pankaj.
He added: "Our female shop floor employees are equally valuable and committed as their male counterparts and we are now focusing on enhancing their skills as leaders, so that they can train others and be a role model for the newcomers. This is an opportunity for us to act, enable them to improve their skillset and build a workplace without bias for the benefit of everyone."
At LM Wind Power believe we must be the change we want to see. To drive meaningful change and stay competitive in a dynamic industry, we need to put the right people in the right roles. That means addressing the unconscious bias associated with women on the shop floor, providing them with upskilling opportunities and encouraging them to take up challenges without doubt so that they can effectively lead our frontline operations.
As the saying goes, learning is a constant process of discovery – it's a process without end. Our women shop floor colleagues are honing their technical skills, stepping up to take on complex tasks related to improving the manufacturing process at the plants and are excelling at it! They are our #LMGameChangers and we firmly believe their representation and involvement brings distinct advantages to our broader aim of powering a cleaner world.
Together we create a desirable place to work with equal opportunity for all.