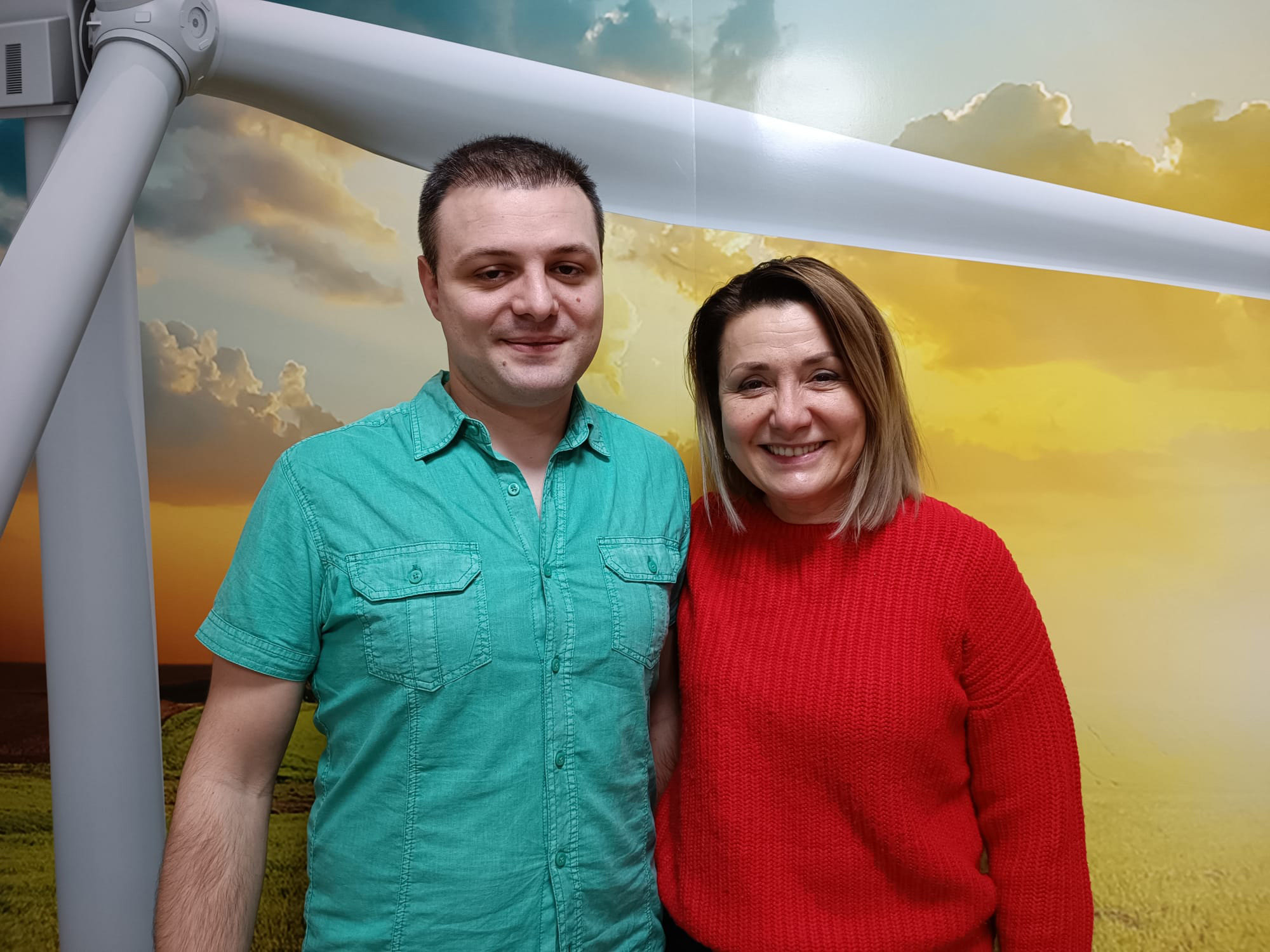 The Age of Diversity: Mother and son learn together while building efficient, reliable wind turbine blades
Work can often get in the way for parents who want to spend more time with their children. That's not the case of Adelina and Bogdan, though, as mother and son are both part of LM Wind Power's team at the Castellón plant in Spain. A year ago they became colleagues and since then, they have grown professionally together, learning from each other in a prime example of an often-overlooked kind of diversity – generational. Our next #LMGameChangers shared how they complement and help each other to develop and become a better version of themselves.
Born in Buzau, north of Bucharest, in Romania, Adelina was a successful entrepreneur for many years. She weathered many economic crises until in 2001 she decided it was time for her and her family to emigrate and look for new challenges. "We decided to come to Spain because of the culture and openness of the Spanish people, which made it easier to settle and integrate. While there is a large community of foreign people, integration was even better than expected and the locals both in the town and the plant received us with open arms", she explains.
Once in Spain, Adelina became a founding mother of LM Wind Power's plant in Castellón, where she was among the first 12 employees. Progressively, her husband, daughter and son joined her, making LM Wind Power home of the entire family. Adelina grew inside the company until becoming a team leader. Today she is one of close to 40 colleagues taking part on the company's Female Development Program, aimed at training women leaders to increase their presence in leadership positions.
Despite offering her the opportunity to spend more time with her son, becoming colleagues also came with its own challenges. "It wasn't easy at all, especially for him. When he joined I was already a team leader and he was shy, he thought that any achievement would be seen with suspicion because he was my son. But he is a great employee, extremely calm and detailed oriented, something I try to copy as much as I can", says Adelina.
Bogdan also tries to learn from his experienced mother. "I admire how she organizes the work. That's something I learnt from her, how important is to properly organize your work", he explains.
"Although sometimes it's hard to give him advice, as it usually happens with most sons and daughters, I remember a tip I shared with him recently. One of his tasks is to load glass and take it to his colleagues inside the plant. Therefore, he is sometimes in a different place when his colleagues at the next stage of the process need him. So I told him to organize his work considering the full process to make it more efficient and better help his co-workers," adds Adelina.
As one of the most senior members of the plant, it's not just Bogdan who approaches Adelina for advice, but also colleagues from the plant as well as engineers. "They come and ask a lot because this is a relatively new industry and the practice is not always the same as that they studied at university. Us veterans know all the tricks and sharing those can facilitate their work a lot. If you don't know those 'tricks' you can feel overwhelmed sometimes", explains Adelina.
Bogdan may not know as many 'tricks' as his most experienced mother, but there is one thing he is certain: "Diversity is great. This includes age diversity, which brings different perspectives to the team and help us address problems more efficiently. Oftentimes, after discussing things for a while, we end up with a conclusion none of us, junior and senior employees, had initially. That's the power of diversity", he concludes.
Adelina and Bogdan embody how our differences can have a direct, positive influence on business outcomes. The diverse approach of people from different nationalities, cultures, sexual orientation, ages or skills contributes to making LM Wind Power one of the driving forces behind the energy transition. And the reason why we strive to create a desirable place to work with equal opportunities to all.