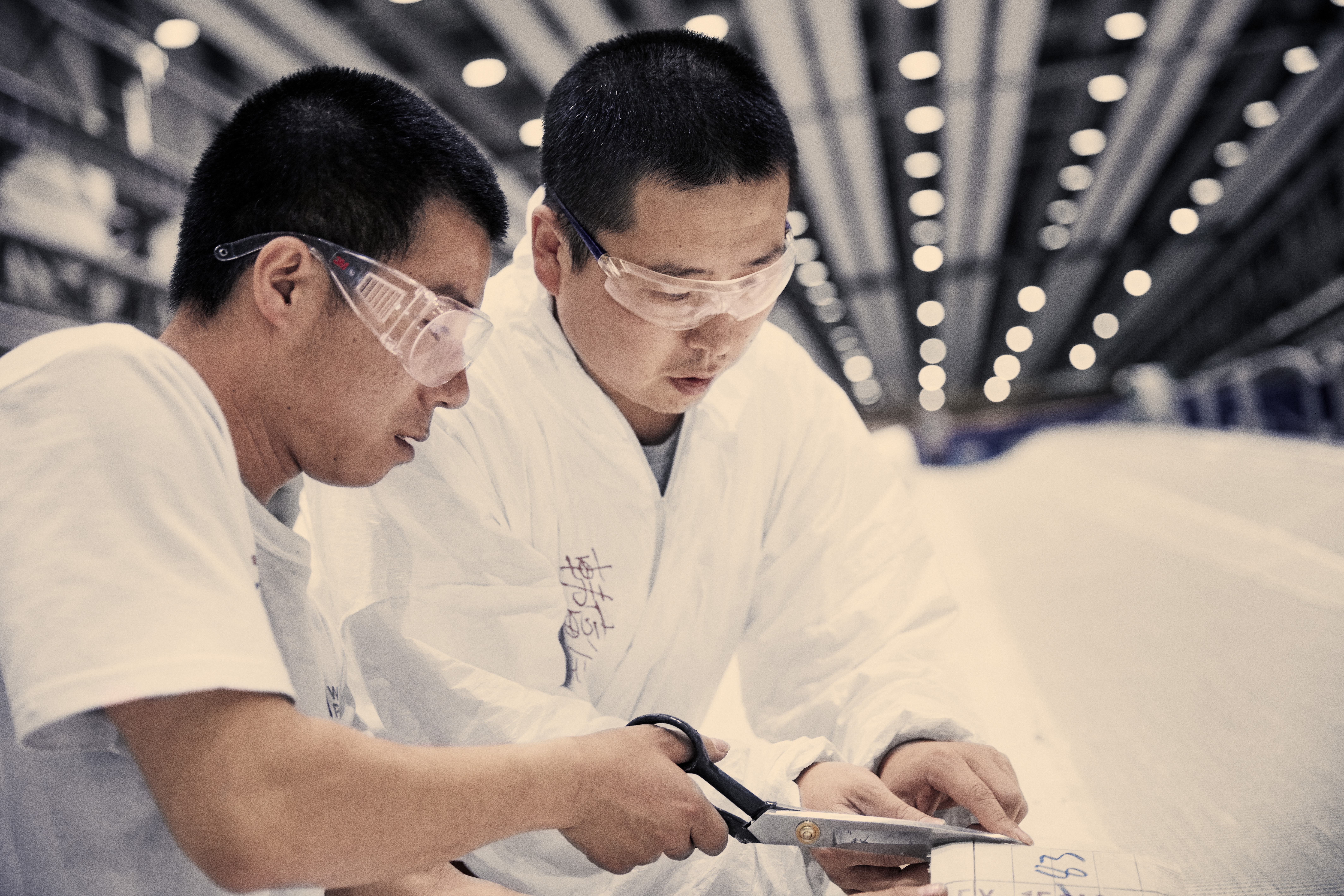 The road to zero waste: This algorithm prevents glass fiber from ending up in the bin
In November of 2021, LM Wind Power took an important step forward on its sustainability journey by announcing it will produce zero waste blades by 2030. This means that the company will progressively give up on landfilling and incineration as waste disposal solutions in the next decade. While a lot of efforts are put on increasing waste recycling, the leaner and more efficient way to get to zero waste blades is by preventing any material surplus before it even becomes something to be managed.
The Point of Use and Kitting team, in charge of delivering kitted materials and consumables to the production line with optimized format, knew that they had a key role to play in bringing this vision to life. As it's explained in the video below, blades are essentially made of fiberglass layers and resin, which form a composite material well known for its strength and lightweight.
These layers of fiberglass cannot be cut to perfectly fit to shape of a blade though. Put simply, it's not that different to when kids draw something on a paper and then cut out the edges. That excess paper, in blade manufacturing is made up of many fiberglass layers of various length, and is called glass reinforcement waste, one of the sources of waste for companies like LM Wind Power.
Glass rolls sequencing
"The fiberglass that we use come in rolls of a certain width and length. We decided to develop an algorithm that would enable the glass roll sequencing plan and, eventually, reduce the excess glass. The idea behind the sequencing plan is to, analyzing all the relevant metrics, know what's the optimal glass roll length for each blade design, the one that minimizes waste while still delivering the required stiffness and lowest blade weight", explains Henrik Barslev, Point of Use Systems Director, LM Wind Power.
To develop the algorithm, the team leveraged LM Wind Power's 40 years of experience designing and manufacturing blades. The amount of data gathered throughout the years was an invaluable input in this process, but there was something else: "We have part of the knowledge that is needed, but to succeed we needed to work in partnership with our supply chain. This is a joint effort as most of what we do as part of our zero waste blades vision," adds Henrik.
As a result of this initiative, LM Wind Power has brought down glass reinforcement waste by 12%, an impressive success that benefits the planet but also the company's financial performance. Because clean business is Lean business. But the team didn't stop there: "The algorithm is embedded on LM Wind Power Glass Waste Management tool which is used by the design team. In this way, they know from the very beginning of the glass reinforcement waste implication of their design choices. Preventing waste at this early stage is one of the most effective tools that we have," explains Henrik.
When asked how to prevent glass reinforcement waste even further, Henrik has no doubts: "Lean and kaizen. Generating new ideas, optimized processes, equipment and techniques; trying them and see what works and what doesn't; and whenever something is effective, standardizing and sustaining the improvement," he concludes.