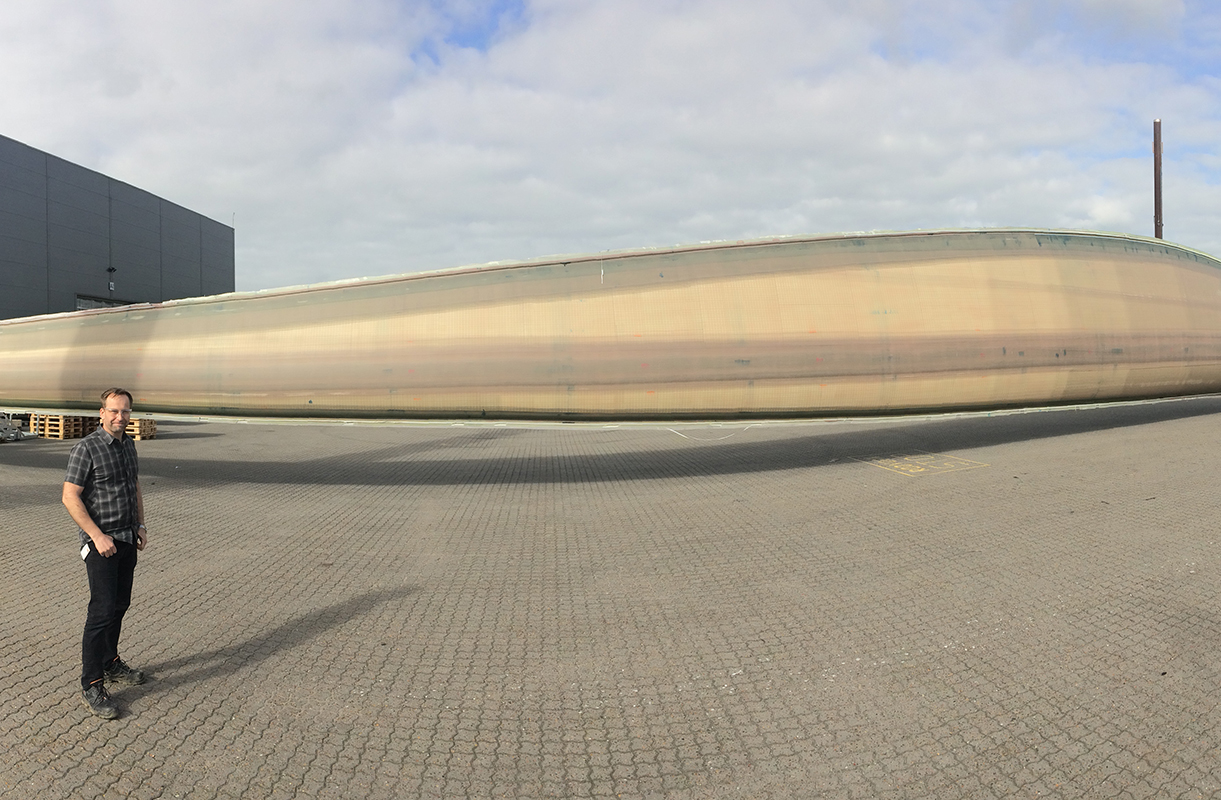 From a plastic bottle to a wind turbine blade
Creating a sustainable business involves understanding a product's entire life cycle. By examining blade materials, engineers strive to improve performance and quality, while decreasing cost and environmental impacts.
Technology and collaboration play key roles in our product sustainability. We have a number of initiatives implemented looking at end-of-life solutions when our wind turbine blades are decommissioned to reduce our emissions footprint, but we also need to carefully consider the impact we can have from the early stages as well.
Design and core materials provide a great opportunity to introduce recyclable material to our blades.
 
CORE MATERIALS 
Traditionally the main laminate of a wind turbine blade contains balsa wood, a light and strong material sandwiched between glass fiber layers. While it has strong material properties, it does have some drawbacks. As a material, it is affected by seasonality, and from a supply chain viewpoint, it is sourced from just two main regions in the world.
To provide greater supply chain flexibility in blade production, LM Wind Power has been working with its suppliers during the last number of years to replace balsa as a core material, with PET.
PET (Polyethylene terephthalate) is a plastic polymer commonly found in food and drink packaging. It can also be recycled (known as R-PET) and while its material properties differ to balsa, the infusion process during blade manufacturing strengthens the foam sheets even further.
In 2014, we started using PET foam in the shear webs of blades and its use has been steadily gaining momentum ever since.
"At the time, PET was an immature material. So the challenge for us before putting it in our blades was to learn how to work with it, as well as with the suppliers who were still figuring out how to make it. Extensive cross-functional collaboration with the stress, composites, engineering, quality and sourcing teams, thoroughly validated the material and by 2017 we had developed our first 40+ meter blade with full PET foam as the core material instead of balsa," said Paul Dansereau, Sr. Manager, Materials Engineering.
 
IMPACT OF  PET
Today the team is scaling up further with PET foam in 80+ meter blades, and recyclable core material now comprises almost 60% of our product output. And of that, the majority is R-PET – already introducing recycled material in to the blade from inception.
 
COLLABORATION WITH SUPPLIERS
Forward planning and strong collaboration with suppliers is a crucial part of securing the supply chain.
"2019 saw a huge gap in balsa supply for the wind industry because of increased demand. Several manufacturers were forced to stop production because of limited balsa. Meanwhile, we managed to maintain production, with a 30% growth, thanks to the large volumes of PET secured. We have qualified and utilize PET supply chains across multiple regions – strengthening supply to our global factories," said Anna Ilieva Peneva, Sr Manager, Global Sourcing Core Commodity.
"Many of our balsa suppliers have expanded into PET and R-PET production, so we can build on our existing relationships as well as develop new partners and empower the supply chain further," Anna said.
This proved beneficial during the challenges stemming from the 2020 pandemic situation which saw further supply chain issues for balsa. Planning, flexibility, and experienced teams who knew how to work with balsa and PET, allowed for a switch of more blade production to PET in order to mitigate shortages and cost impact.
"It makes sense to have more tools in the toolbox. At the end of the day, we can be more competitive in terms of cost and performance levels to meet our customers' needs," Paul added.
Picture- Sr. Manager Paul Dansereau in front of the first LM Wind Power blade with an all-PET foam core in 2017.