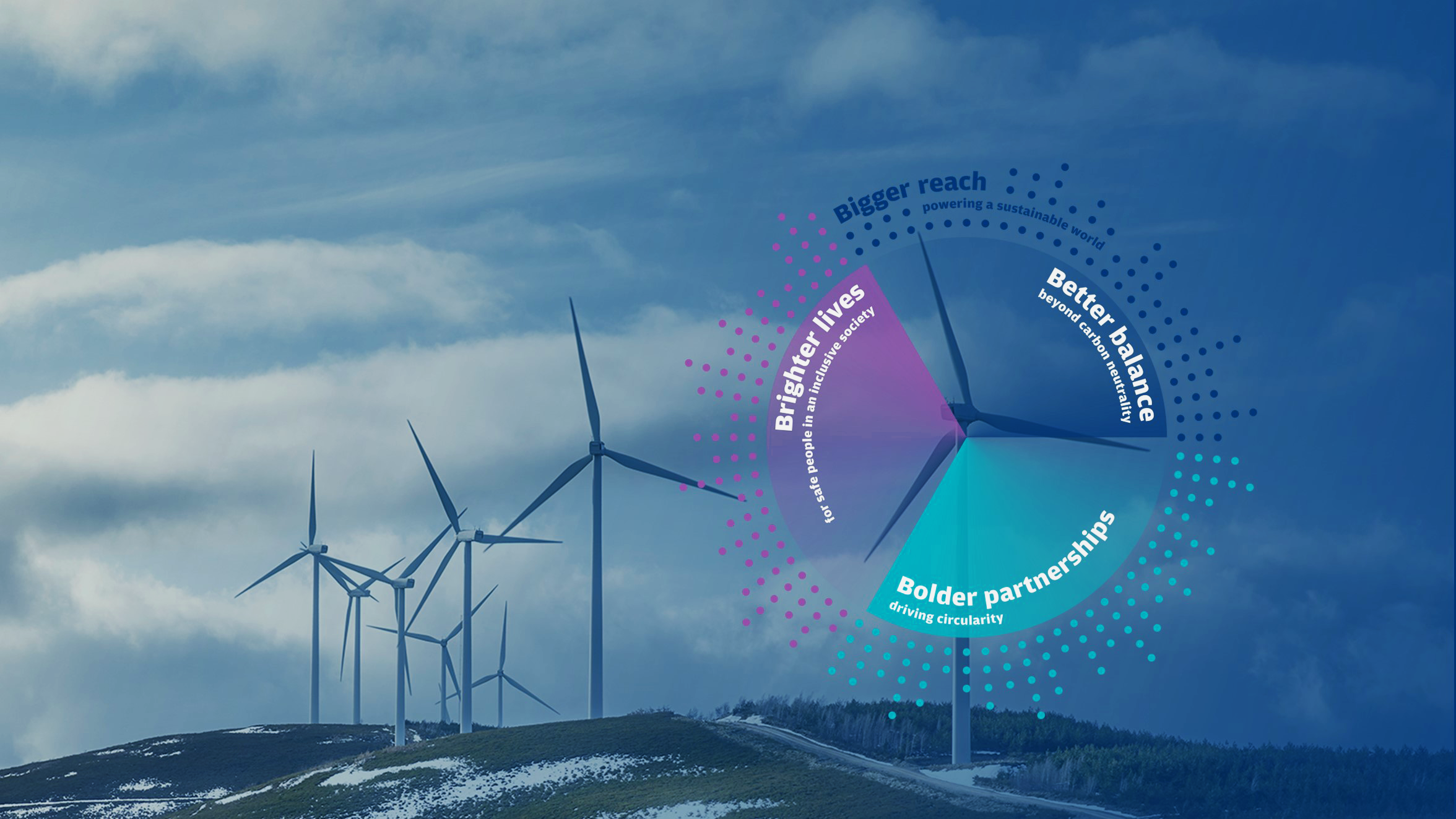 Aiming for bigger reach: LM Wind Power's sustainability journey to unlock the true value of wind energy
At LM Wind Power, we know that the value of wind power lies not only in what it produces, namely green electrons; it's also what it doesn't produce. In 2018 we became the first carbon neutral company in the industry, and we now embarked on a mission to eliminate waste from our operations. All while advancing a safe and inclusive environment for our teams and society at large.
'Bigger blades capture more wind and increase the annual energy production of wind turbines. With sustainability, it is a bit the same, where bigger commitments and understanding of footprint means bigger reach to make a positive impact on the environment and communities,' states Katelyn Huber, LM Wind Power's Sustainability Leader.
We know blades. We produced our first unit more than four decades ago and have a proven track record of leading technological evolution within our segment, with ever larger and more efficient blades. For any wind power milestone, there is a high likelihood that we were part of it: the first wind turbines in the late 70s and early 80s; the maiden offshore wind farm off the coast of Denmark; or the first ever blade measuring over 100 meters are just some examples.
'This wealth of knowledge is key to develop new technologies and improve the efficiency of our blades. We are proud to have contributed, alongside other industry players, to make wind power one of the most competitive sources of electricity nowadays. At the same time, we know that to be a green company, it's not enough to simply be part of a green industry. We need to do more. And that's a realization we had more than a decade ago,' explains John Korsgaard, Senior Director of Advanced Technology Development & Chief Engineering.
Just like wind turbines have three blades capturing more wind, our sustainability strategy focuses in three dimensions, aiming for bigger reach: climate, circularity and people. All with the end goal of powering a more sustainable world.
Better balance: beyond carbon neutrality
In 2010, we joined the UN Global Compact as a signal of our commitment to running the business in a sustainable way. Our ambition stretched beyond meeting regulatory requirements. We strive to align strategies and operations with universal principles on human rights, labor, environment and anti-corruption, and have reported on our performance every year since 2011.
In December 2016, we took our sustainability leadership one step further announcing our commitment to go carbon neutral by 2018. 'We reached our goal on time, becoming the first carbon neutral business in the wind industry. Today, we continue to work to reduce our emissions each year. We have a comprehensive energy efficiency program that leads to yearly reductions in energy and electricity consumption. And we also run our operations 100% on renewable electricity,' adds Katelyn Huber.
Bolder partnerships to drive circularity in the wind industry
Carbon emissions are not the only thing that we want to remove from our operations. In November 2021 we announced our pledge to produce blades without waste by the end of the decade. 'This is an important project. Today, between 20 to 25% of all the materials that we buy do not end in the final product, becoming a burden not only for the environment, but also for our bottom line,' explains José Luis Grau, who is leading this project internally. 'Our focus is mostly in preventing waste, and then in recycling any unavoidable waste. By 2030 we will send no excess materials to landfill or incineration without energy recovery,' he concludes.
Through these efforts, we increased the percentage of manufacturing waste that gets recycled from 27% in 2020, to 41% in 2021, and expect that figure to have increased even further in 2022. Additionally, our circularity efforts also cover end-of-life blade recycling, and in March of 2022 we produced the first prototype of a 100% recyclable blade as part of the ZEBRA consortium. The blade is also the world's largest thermoplastic blade manufactured.
Brighter lives for safe people in an inclusive society
'Making blades is a people business, it's all about them. Therefore, we want our teams to feel respected, safe, both physically and emotionally, as well as welcomed to bring their own selves to work. This is the only way for them to thrive, and for us to retain and attract the best talent,' states Torben Molby, Head of Operations for Europe & Americas and Chief Diversity Officer at LM Wind Power.
At LM Wind Power, more than 90% of our over 10,000 employees work in manufacturing roles, traditionally occupied by males. 'Lot of companies have goals to increase the number of women at the board or executive levels, and that's the right thing to do. But we also want female colleagues to be more and more present in the shopfloor, manufacturing blades, leading teams. It is a proven fact that diversity of perspectives, backgrounds, etc lead to better outcomes,' adds Molby. For the last couple of years, the company has promoted a female development program across its global manufacturing footprint, where women colleagues in the plants are trained to become team leaders, grow their careers and inspire others, both inside and outside the company.
Diversity and inclusion go beyond gender at LM Wind Power, and we focus on building allies for everyone. We also have LGBTQIA+ people and people with disability engaged in our sites across the world. They are part of a 10,000 strong workforce, from over 50 nationalities, working every day to create a cleaner and greener world. To build and grow allyship, we organize Pride march and celebrate various forms of diversity, cultures and cuisines to create belongingness.
Additionally, LM Wind Power is one of the founding members of the Windclusion Alliance, which was formally launched in April of 2022 during the WindEurope event, in Bilbao (Spain). 'It is a global alliance promoting inclusion, diversity and a universal mindset in the wind industry. We have come together with other industry players to encourage and inspire people from diverse backgrounds to be a part of this journey where they have equal opportunity to contribute, grow and be proud of their achievements,' explains Dorte Kamper, Vice Present, Sales & Marketing at LM Wind Power.