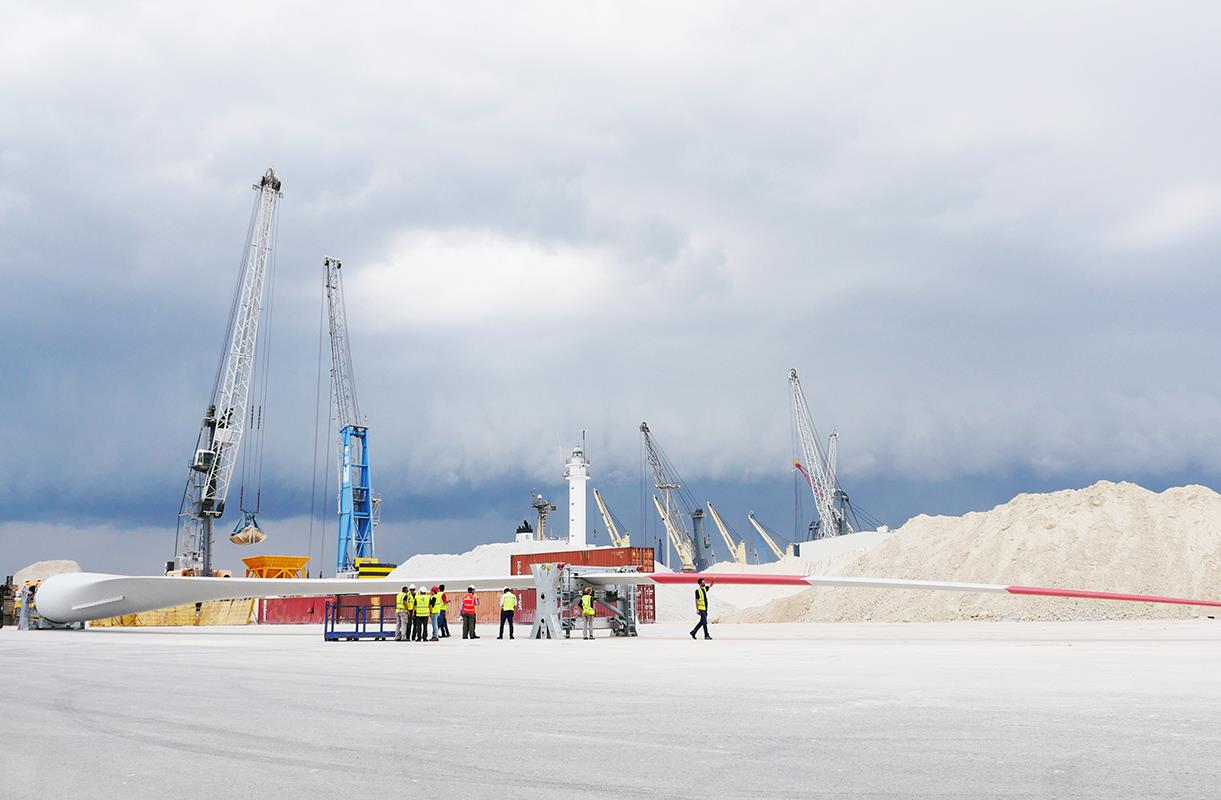 LM Wind Power 73.5 meter blade arrives at Castellón Port - the largest wind turbine blade ever made and transported in Spain
On october 20, the first LM 73.5 P wind turbine blade successfully arrived at castellón port. It is the largest blade ever produced and transported through spain.
Destined for the Merkur offshore wind farm in Germany to power GE's Haliade 150-6 MW turbine offshore, the 73.5 meter blade began its journey at our factory in Castellón, and travelled 45 kilometers (km) by road to reach the port.

This new size record in Spain reflects the fast development of the wind industry to continuously introduce longer and more complex blades, designed to lower the Levelized Cost of Energy (LCOE) and serve the growing offshore market.

Castellón Plant Director, Jose Luis Grau said: "LM Wind Power's Castellón plant was founded in 2007 starting with about 60 people and producing 37.3 meter blades. Today, the factory employs more than 620 people and produces much larger blades, up to 73.5 meters in length, for multiple customers. This is a strong example of how the wind industry in Spain continues to play a significant role as a source of economic development and job creation."

Laurent Verdier, GE's Offshore Wind business Project Office Leader said, "The onshore assembly hub was opened some weeks ago in Eemshaven, The Netherlands, and is ready for receiving the wind turbine main components, including blades, and preparing the offshore installation works that is expected to start in February 2018."

In total, 198 LM 73.5 P blades will be shipped to the Merkur site. The first blade arrived ahead of schedule – with a 3.5-hour transport time – and the duration of the journey is expected to decrease as the drivers perfect their routine over the coming months. 


Read the full press release here.
OCTOBER 20, 2017
Watch this historic transport
A drone followed the largest blade ever transported in Spain, from our factory to the Port of Castellon. Watch now!
JUNE 29, 2017
Wind powers rural development
In June 2017, LM Wind Power and Les Coves de Vinromà received a prestigious recognition: The sixth-annual Rural Integration Award from the Spanish Wind Energy Association.
Watch the video created in honor of this acheivement, and meet this inspiring team.