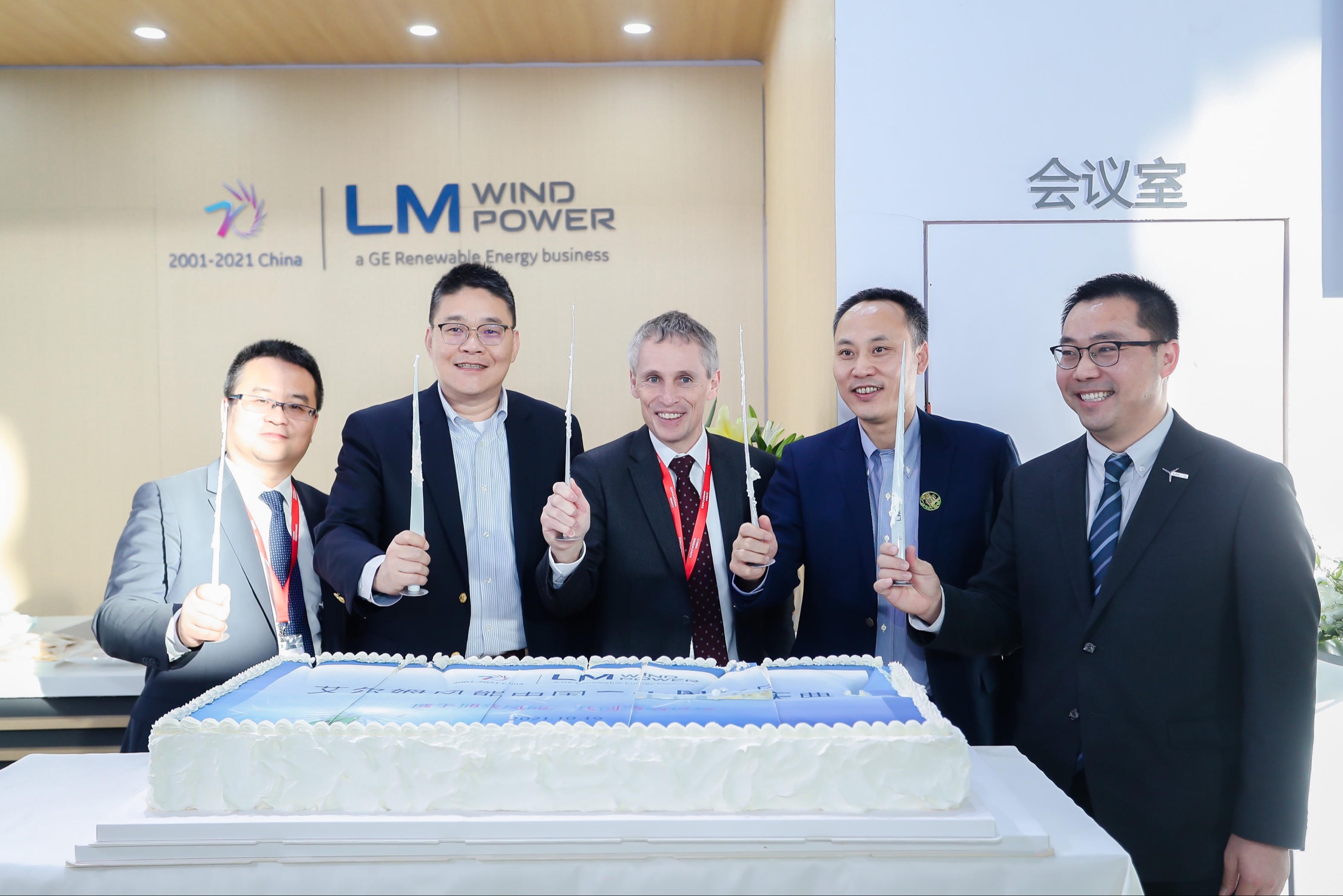 LM Wind Power celebrates 20 years of successful operations in China!
We are delighted to share that the Danish Ambassador to China Mr. Thomas Østrup Møller,  the Chinese Wind Energy Association Executive Deputy Director and Secretary-General Mr. Qin Haiyan  and other esteemed guests were at the LM Wind Power booth on October 19 during the China Wind Power (CWP) event to celebrate our 20 years of successful business operations in China.
"From Danish Embassy we are pleased to follow LM Wind Power´s progress in China over the past 20 years. We are proud of the company's achievements in designing and manufacturing wind turbine blades with strong Chinese teams across several blade plants in China , thereby supporting the energy transition," said Mr. Møller
He added: "LM Wind Power is an example of close collaboration between China and Denmark on promoting wind energy to support the carbon neutral ambitions in China. We would like to take this opportunity to congratulate LM Wind Power on the 20 years anniversary!"
"As the first international blade manufacturer to enter China's wind power market, LM Wind Power has made great contributions to the development of China's wind power industry in the past two decades. Through the introduction of breakthrough design and manufacturing technologies, LM has filled the gap in the market, created job opportunities, raised industry standards, and actively supported vigorous development of the wind power market," said Mr. Haiyan. 
"We hope LM Wind Power will continue to ride the wind and reach new heights in the regional wind power markets!"
LM Wind Power's presence in China includes state-of-the-art blade facilities at various locations to support the development of key offshore and onshore wind projects.
Olivier Fontan, LM Wind Power CEO, said : "We are proud of our achievements in China in the last 2 decades that has seen a significant jump in wind power capacity additions. Our growing footprint in China validates our commitment to better serve our customers, enabling them to achieve their clean energy targets. Our focus now is on the upcoming decade(s) where together with our partners and suppliers we aim to build bigger and more efficient blades in a sustainable way to meet the growing renewable energy needs of the region."
LM Wind Power entered the Chinese market in 2001 and since then it has been investing in setting up factories, training employees and building strong relationships with local and regional partners.
Today, as a part of the GE Renewable Energy family, the company has more than 3000 employees in China, with offices in Beijing and Shanghai.
Image caption - L-R  Mr. LI Fei, VP of Goldwind Technology, GM of Wind Turbine Business, Mr. XU Gang, VP of Envision, Mr. Thomas Østrup Møller, Danish Ambassador to China, Mr. Qin Haiyan, CWEA Executive Deputy Director and Secretary-General and Mr. Hugh Xu, VP of LM Wind Power China Operation at the booth celebration event during China Wind Power Exhibition.
Images
China Wind Power event celebration