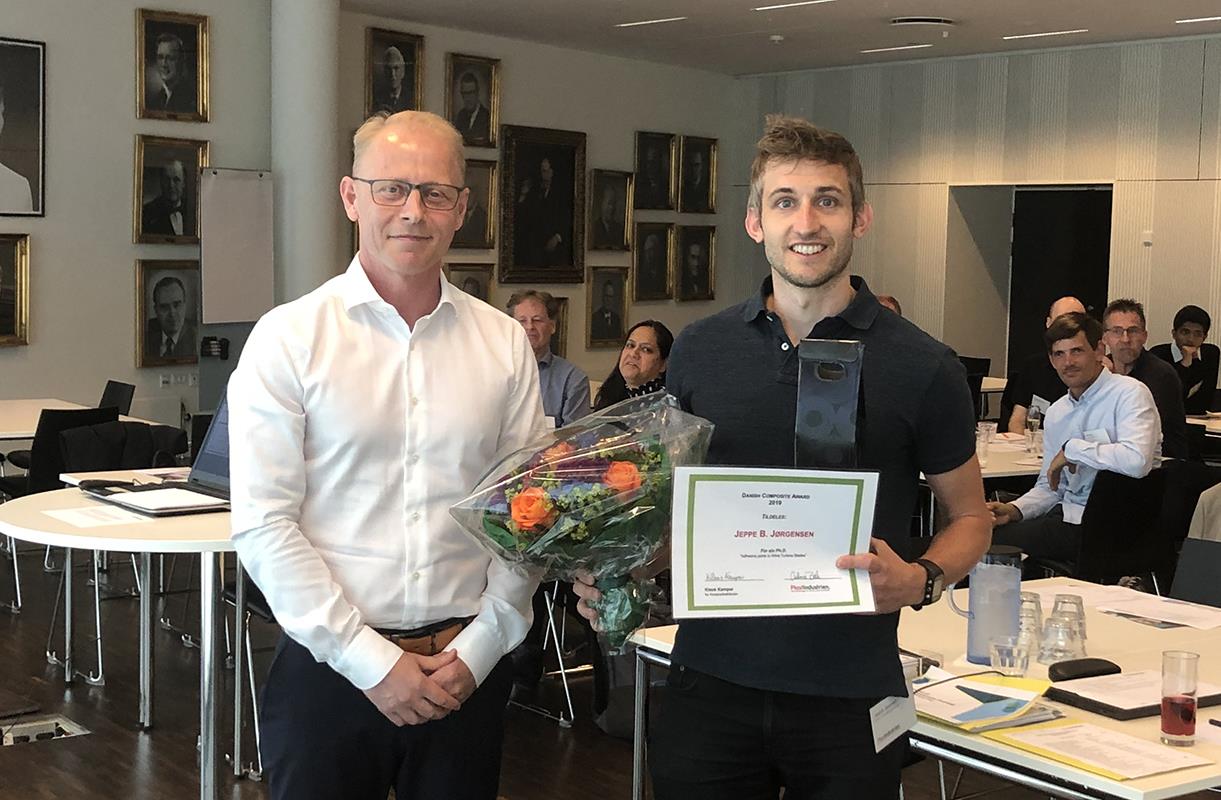 Award-winning composites research
On June 4, LM Wind Power engineer Jeppe B. Jørgensen received the prestigious danish composite award for his work on composite adhesive joints. As the fourth LM Wind Power engineer to win the award in recent years, jeppe's achievement represents the continuation of our close cooperation with academia – resulting in valuable, applicable research.
Jeppe B. Jørgensen, Composite Mechanics Senior Engineer, has worked for LM Wind Power for six years, and he's carried out his award-winning research as part of an Industrial PhD program between the company and DTU Wind Energy.

Through his work on adhesive joints for wind turbine blades, Jeppe identified the key factors driving the development of different failure modes in composite-adhesive joints, that are loaded by static and cyclic loads. His findings will help LM Wind Power effectively apply higher design loads to adhesive joints. This allows LM Wind Power to update our design specifications, helping us to meet customer demand regarding material strain limits.

"I hope my work can shift industry development in a positive direction, so that wind energy can be an even more competitive source of energy in the future," Jeppe said.

Jeppe's work has already led to the publication of four research articles in leading international journals, as well as a Best Poster Award at the latest "CompTest" composite conference in Belgium.

The Danish Composite Award committee recognized the industry-wide added value of Jeppe's research: "These methods are applicable to the adhesive joint design for other lightweight fiber composites. It is therefore of great value and practical application for the entire Danish composite industry."

A winning team
Jeppe is the fourth LM Wind Power engineer to win the Danish Composite Award in recent years.

According to his manager Michael Wenani Nielsen – a former winner of the Danish Composite Award himself – the award highlights the high relevance of composites research, not only for its value to academia, but also for its industrial applicability.

"An Industrial PhD is not that easy," Michael said. "You are managing two stakeholders – your employer and the university you are enrolled at – along with your own ambitious research. Jeppe did a fantastic job in maintaining focus and developing internationally recognized research that is also directly applicable to the work we're doing in LM Wind Power and the wider wind industry."

About the award
The Danish Composite Award is awarded annually by the Danish Plastics Federation.
The winner presents their research at the annual meeting of the federation and receives a diploma as well as travel and participation in the global leading composites trade show – the JEC Composite Show.
Previous recipients of the award in recent years, based on their work carried out with LM Wind Power, include: Morten Rask Nielsen, Jens Zangenberg Hansen, Michael Wenani Nielsen and Jeppe B. Jørgensen.