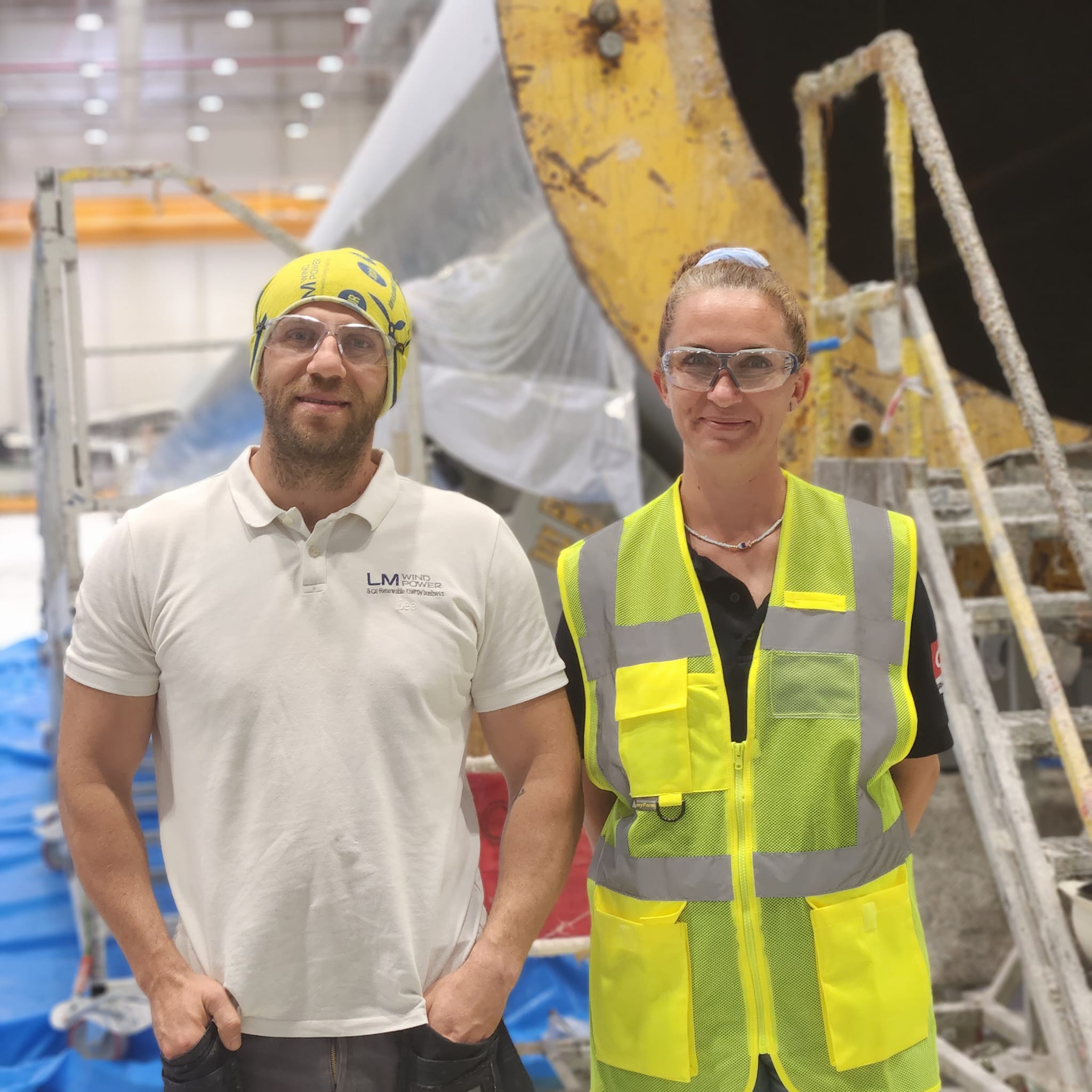 Bonding over Blades: A Couple's Shared Journey at LM Wind Power
Zeynep Negis, a Manufacturing Specialist in Material Planning and Execution, and her husband Tufan Bozkurt, a Production Operator at Bergama Plant in Turkey, often joke that if she hadn't overlooked the job postings, she might have been the first to apply and join the team, beating Tufan to it.
This couple, with one in an hourly and the other in a salaried role, work together at the same plant. Between them, they have a combined tenure of over a decade at LM Wind Power, with Tufan having worked for 6.5 years and Zeynep for nearly 5 years.
From colleagues to companions for life
While couples rarely work in the same organization, Zeynep and Tufan are glad they both found love and believe it was destined to be so: "We met in LM Wind Power, when I was a production department assistant. I used to work with production team leaders and Tufan especially supported me to handle all the issues and improvements in shopfloor. This led to us going out for coffee and the rest, as they say, is history", recollects Zeynep laughing at the memory of their first date. Their strength as a couple lies in their agreeability towards each other, when Tufan remarks jokingly, "I always agree with her."
Zeynep and Tufan have held different roles before arriving at their current work profiles. Zeynep was a production department assistant moving onto production planning. Tufan is a C&G operator and worked various roles as a layup operator, assembly team leader, and finish team leader. Another source of pride and humor between them is their collective expanse of experience at LM: "Today we confidently share a vast depth and breadth of knowledge and expertise about blade manufacturing processes that we can make our own wind blade at home," says Tufan.
Growing together through learning and admiration
"Tufan is quiet and hardworking, I respect him and his job at the shop floor, as he is always curious to learn new things which then I can learn from him", appreciates Zeynep. Tufan admires Zeynep's ability to manage work and family responsibilities with ease: "Zeynep is strong, respectful, self-encouraged and wants to learn more. She is a remarkable mother while also managing work".
Standing stronger together
While there are always advantages and disadvantages of working in the same organization, for Zeynep, Tufan is her "eyes and ears in shopfloor", her learning guide on blades and processes and what's the progress or understanding upcoming defects or issues. For Tufan, her questions in turn make him think on his feet and push him to learn and grow more.
Learning from each other, they also try to make the most of sometimes-limited quality time they get together due to not always being able to meet at home from separate shifts.
A dual commitment
Dividing household chores, they unwind at home by spending time with their daughter and pursuing hobbies like gardening, exercise, cooking, and watching movies. Their commonalities include sense of purpose and pride in leading energy transition and both liking silence and travelling. The only difference while vacationing for example to Assos, an ancient city in Turkey, was walking around the whole city, enjoyable for Tufan but tiring for Zeynep.
"I visited the Technology Center at Denmark and saw the history of LM Wind Power producing furniture for children at first and then expanding their expertise by thinking big to now changing the way wind energy sector works to protect our children's future", recalls Zeynep who is driven by the same passion as Tufan "There is a great effort in leading the world through the shopfloor towards a better and greener future."
As a #LMGameChanger couple they are proud to be a part of our culture that gives importance to work-life balance and to inclusion and diversity, making employees feel welcomed and valued. Opportunities to learn, grow and to contribute are plenty as an individual and are also rewarding for couples, who share common goals. In the words of Zeynep and Tufan: "Happy couples at work make a happy family at home."