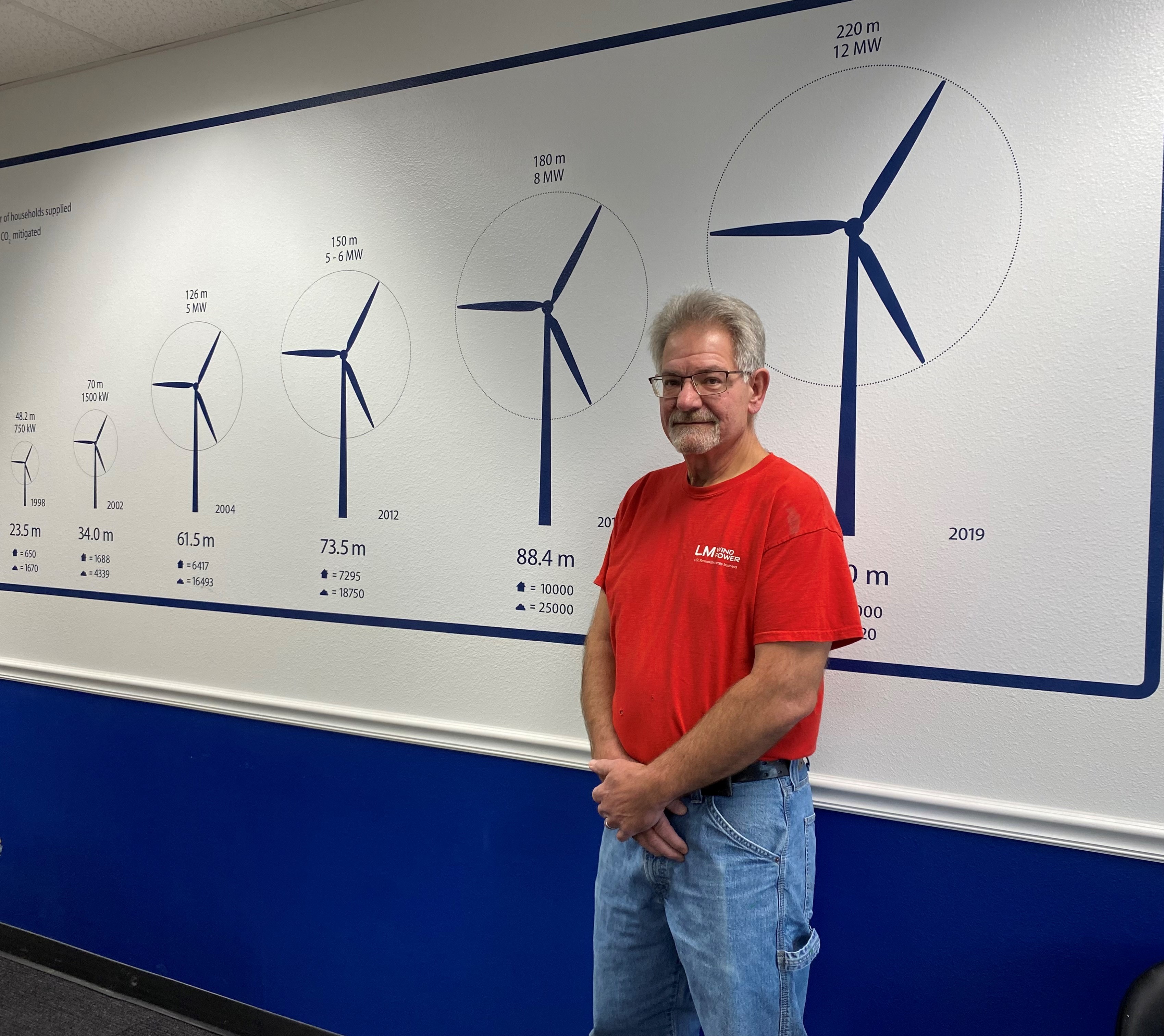 Powering change through a legacy of leadership and service
When Dale Fredrick left the United States military in 2006 after completing 2 decades in service, he was not sure what his next career move would be.
A native of Grand Forks, North Dakota, Dale had enlisted in the U.S. Navy's aviation supply team in 1986 just after graduating from high school. He comes from a family of military and service members, and it was only natural for Dale to be drawn to a career in services.
"It was a great honor to be a part of the United States military. And I thoroughly enjoyed everything that I did while I worked in my job there," shares Dale, who served in combat squadrons for most of his military life, which included eight different deployments on six different aircraft carriers.
Post retirement while he was transitioning into civilian life some veteran friends recommended Dale join LM Wind Power's manufacturing plant in Grand Forks. He applied for a position in the Quality team and upon acceptance joined the company in 2006.
Working in wind
Initially, Dale trained on some of the basic processes involved in blade building. A year later when the non-destructive testing (NDT) department was being set up, Dale, along with a few others, went through extensive training to be a part of the team. Within the overall quality function, the NDT wing is engaged in performing infrared inspection of the blade and ultrasonic inspection of the bond lines to make sure that blade is put together and glued together well.
"The NDT department originated here in Grand Forks and there was an immediate need for the company to have a well - trained team in place," reflects Dale, adding that most of his colleagues, including himself did not have any experience in the field. He recalls: "The training was very fast and very challenging, and we had to learn quickly. We had to adapt and adjust."
For Dale, this was not something new. During his deployment days, he was involved in regular trainings, updating his knowledge and skills to keep up with the constant improvements in technology and adapt to changing circumstances.
"There's still a core group of us that started in the NDT team in 2007. It took about two and a half years to become certified for what we do. The work is quite technical, and we have a lot of training continuously that goes on, a lot of recertification trainings as well," says Dale.
For LM Wind Power, developing the testing facility in-house was very essential, explains Dale, since external agencies who performed the tests charged the company a significant amount. He takes pride in the fact that it was his colleagues in Grand Forks that built the NDT capabilities from the ground up, which is now a global department and trains people across all LM Wind Power plants worldwide.
"It's been a great trip!"
Working at LM Wind Power has enabled Dale to draw from his experience, team building and leadership skills and apply them in his current role. His love for outdoor activities like hunting, fishing, golfing also helped Dale build a strong camaraderie with colleagues who are very supportive of him and of other veterans in the Grand Forks plant.
"It's been a great trip since I joined LM Wind Power," says Dale, who's currently employed with the NDT team as a Team Lead and inspector. "I work with wonderful people, and with a good leadership here. The appreciation from colleagues at LM makes me proud that I served in the military."
The Grand Forks plant is diverse in terms of gender and culture, and has several veterans in the area, says Dale. He mentions receiving numerous emails, texts and even face to face interactions with colleagues every year during Veterans Day and Memorial Day celebrations, congratulating him and thanking him for his service to the country.
Dale enjoys interacting with other members in his team who have also served in the military in various capacities and learning from their experience.
Shaping the future
Veterans bring valuable teamwork, leadership, and job skills to any organization they join. Men and women in uniform develop and nurture these attributes and are often cross trained in multiple disciplines and have experience in varied tasks and responsibilities.
Much of this experience can be translated to fast-growing sectors like wind energy, where there is a great demand for individuals from diverse backgrounds and with different skills, and competencies to join the workforce and build a sustainable future.
As an #LMGamechanger, Dale and numerous other veterans like him are leveraging and reinvesting their service experience to shape the wind industry that will continue to see tremendous growth and innovation in the coming decade. From saving the country, to now saving the planet, they are on the path to serve on the frontlines of the clean energy transition.
A career in wind was not something Dale had envisioned or planned for. It was the unique leanings from his service days and a desire to be a part of the solution to the global climate challenge, that paved the way for contributing both professionally and personally.
"When I come to work, it just blows my mind at what we do, and how relevant it is for the future generations," says Dale.