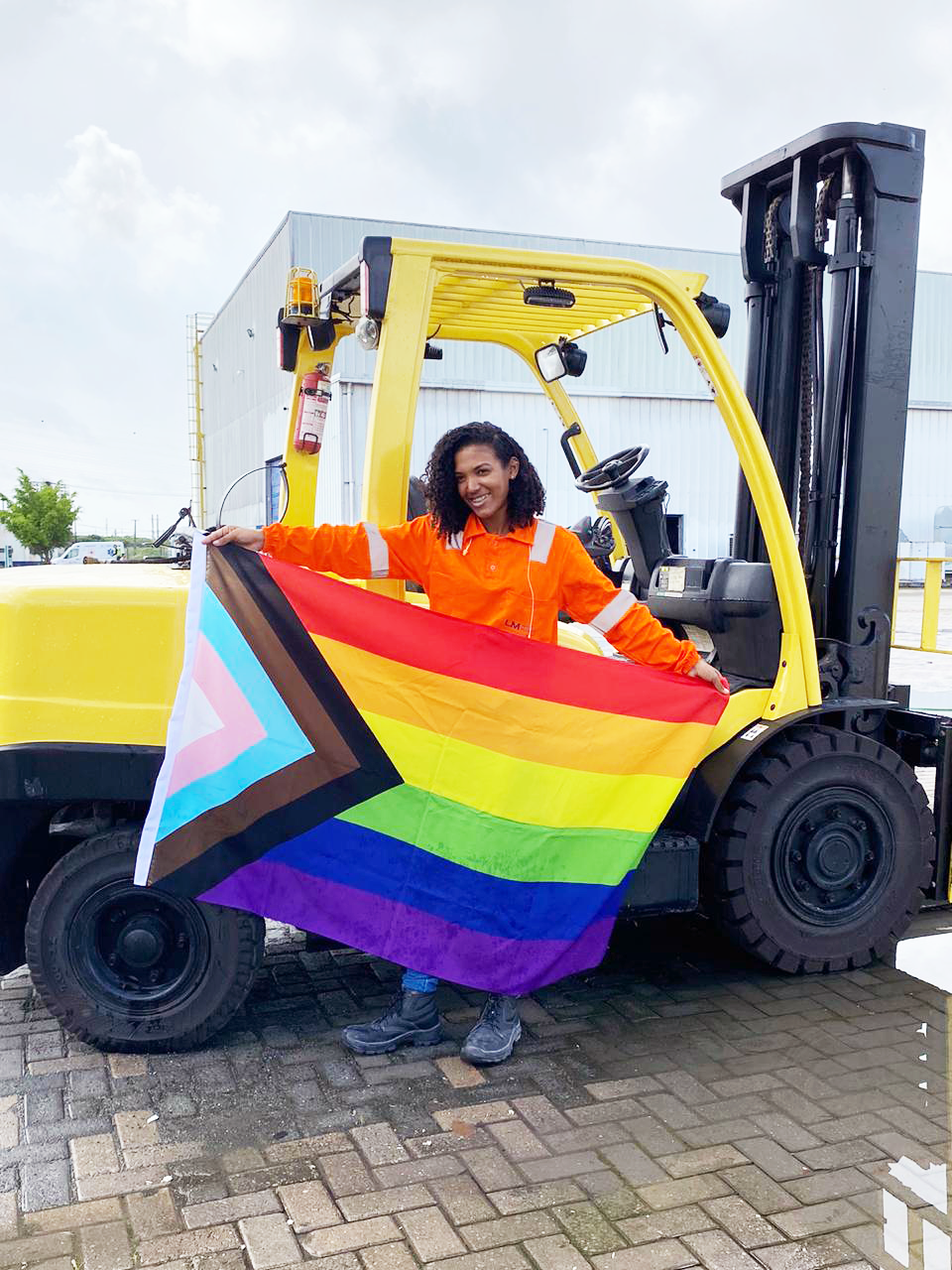 Forging inclusion beyond black and white towards the rainbow
Angela Cristina Lima Da Silva, Materials Handler, LM Wind Power, Suape, Brazil, boldly talks about her life experiences, fondly recalling the love and support she receives from her family, friends and colleagues who've made her feel welcomed and belonged, to achieve her ambitions.
"I knew I was a lesbian since long ago though I came out to my mother at 19. My mother says she knew way before I came out and was patiently waiting for it to happen naturally and at my own pace. My father always told me that regardless of what I do, be it sweeping the floor, to do it as best as you can. I tried to fit into hetero stereotypes of how a "perfect woman" looks and behaves only then I finally understood who I really was."
It isn't easy to be a lesbian in Brazil. While Brazil ranks among the top countries with respect to LGBTQIA+ people rights, social conservatism has led to increasing violence and discrimination against the community members that are often underreported. "Sadly, it is more painful when it happens in your home and some of my friends have faced violence at the hands of their family members. One loses their sense of home in such cases, when you cannot return to your family or home for fear of your life."
Not everyone gets an understanding and loving family, but they are instrumental while trying to figure out who you are, especially when digressing from societal expectations: "Despite my mother not being able to finish her school she motivated and supported me to do my best and take her journey forward. Unfortunately, my brother is prejudiced and didn't allow me to mingle with his daughter. I am ever grateful to my parents for not enforcing conventional upbringing onto me of every Brazilian girl marrying a man, having a family and depending on her husband."
Breaking stereotypes and biases
Not all colleagues and every workplace are welcoming to people who are different from them. "It can become very isolating and feel targeted when sometimes people say that I don't sound or look like a lesbian, it feels horrible and limiting as lesbians don't have to look a certain way. In one of the organizations, I worked for, some male colleagues sexualized my position. The fact that I'm in a relationship with another woman seemed like I wanted to be a man. I had to demonstrate all the time that, regardless of what I do, I am professional and competent.
I was cautious when I had to choose my next employer. My wife came to work for LM Wind Power and gave glowing feedback about the organization and when a vacancy came up, I decided to take a chance. My manager asked me not to be afraid and appreciated me for being the first woman operator, giving me all the support, I needed to feel safe and succeed."
To be productive and collaborative it is important for people to bring their authentic self to work. "Additionally, to being accepted and appreciated for who I am, everyone knew that my wife worked here, and it was comforting to work in a place where I could earn their respect and affection. Since my childhood I wanted to become a leader and LM Wind Power is getting me closer to that dream every day."
It's more than black and white
Pride month annually represents creating awareness and sensitivity towards the LGBTQIA+ community: As an #LMGamechanger, Angela's advice to fellow community members is to "take up space and make people aware of the 'L' in LGBT+, never allowing anyone's opinions or prejudices limit your sense of self and growth. There are people who live in closets or try to fit in and sometimes this impedes their growth. If I say I'm a black woman, people will understand, but more so I'm a black woman and a lesbian. I hope my story empowers and inspires regardless of your social status, skin color, gender, sexual orientation and more. Let's take responsibility for our personal and professional success, and prove that everyone is capable to the world," concludes Angela.